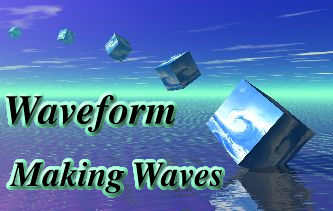 Making Waves, the first release from Waveform, rewards listeners with a unique and intricately woven tapestry of sound textures, rich in melody, and full of life. The title track traces the life of a river from its source to the sea, and takes you on a musical voyage from the birth of a stream, to the hidden, mysterious depths of the ocean.

Waveform, through the mastery of the latest synthesisers and recording techniques, present a collection of exciting pieces that vary from the subtle and atmospheric "Adrift" to the power and majesty of "Stormbringer".
Click here for further details on Making Waves
Waveform™, the Waveform Logo, all images and audio material are ©8th Wave Music Publishing 1991-2006.
All rights reserved. No material from this site may be reproduced without prior permission.